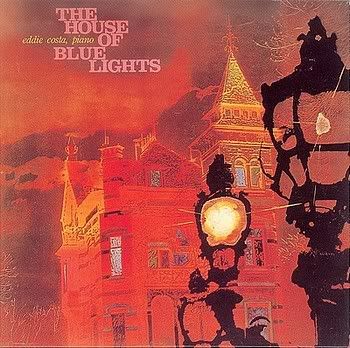 (Texto en español más abajo)
I recently read in the
San Francisco Gate
a story about the Groove Yard Records shop in Oakland (California) and their LP sales. This caught my attention:
The most expensive album [owner Rick] Ballard ever sold was "House of Blue Lights" by '50s bebop pianist Eddie Costa - $700.
I've been doing some research on Eddie Costa's discography for a while now (which I hope to finish and publish soon), and I know this album very well. So, let me introduce you to it and its author.
Costa was, first and foremost, a pianist, although quite a few people remember him as a vibist (he's also on record playing organ and assorted percussion, including bells.) He had a very active career between 1954 and 1962, both playing jazz and as a studio hand, till he died at 31 in a car accident. As a pianist he had a fierce attack, and was famous for diving into the lower register of the piano, sometimes playing as if it were a set of vibes, not entirely different from Lionel Hampton's two-fingered style (although Costa played octaves with his left hand.) Beyond that quite compelling feature, there's a soloist with a knack for long, fluid improvised lines, devoid of clichés or licks.
Although he recorded
a lot
(I have him in 150 LPs and counting) he only did four and a half albums as a leader, for Jubilee (
The Eddie Costa-Vinnie Burke Trio
, 1956), for Mode (
Eddie Costa Quintet
, 1957, with Art Farmer and Phil Woods), for Verve (half of a Newport album, 1957, with Dick Johnson and Rolf Kühn), for Coral (
Guys and Dolls Play Vibes
, 1957, Costa on vibes and Bill Evans on piano), and for Dot (
House of Blue Lights
, 1959).
The Dot album is undoubtedly his best. Not only he had widened his resources, but he was also using the whole range of the piano and was producing more structured solos. It got four stars in Down Beat at the time, and deservedly so: it's a great album, that points to a personal direction beyond bop that would get truncated all too soon.
So,
House...
is very good indeed, but $700!!! (I've seen it go on
eBay
for anywhere from $9.99 to over $400, depending on its condition.) This however, only applies to the mono edition, which has never been reissued on any form. The Japanese have reissued this album on LP and CD, but it has been always the
stereo
version, not the mono.
Thus, the mono version (Dot DLP 3206) can only be a first edition. That makes it scarcer and therefore expensive. To my ears, the mono version sounds better balanced than the stereo... but there's one more detail:
the mono and stereo versions are slightly different.
Thanks to the good people of the
Institute of Jazz Studies
, I was able to compare both versions, the original mono and a stereo reissue. The music in all tracks is exactly the same, except for the tunes "Diane" and "Annabelle".
"Annabelle"
is a blues in G by Costa, with a very interesting riff from around 1:40 (not included in the clip below) that starts with Db (the flatted fifth) and it's built on the augmented scale of G (B, Db, Eb and F.) The mono and stereo versions are identical, except for the short chordal intro, which is missing from the stereo. Check the audio clips below to see the difference.
The other track,
"Diane"
, is an obscure 1927 song from the film
Seventh Heaven
, which had been previously done by Miles Davis (with Trane in the 1956
Steamin'
LP for Prestige) among others. Here it has quite an interesting arrangement, possibly by Eddie himself. It has seven choruses, it's book-ended by a chorus with bass and drums playing
free
-ish (remember this is 1959, the year Ornette got to New York), very fast and Costa doing the melody in a kind of half-time (you'll catch a bit at the end of the clips); in the middle it alternates three "4/4 swing" and two "stop-time" choruses. Here, the stereo version is missing a full "4/4 swing" chorus, (32 bars, about half a minute) and the reason seems to be that Costa hit a clam: at the beginning of the swing chorus he starts playing as if it were the end chorus, he realises his mistake, switches to the correct gear and seems to struggle a bit. The clips should illustrate this better than my words, and if you listen to the stereo "Diane", you'll probably notice the tape-splicing (0:13).
But don't let any of this bother you: this is excellent music, well worth checking out.
Annabelle
(intro, stereo)
Annabelle
(intro, mono)
Diane
(chorus V-(VI)-VII, stereo)
Diane
(chorus V-VI-VII, mono)
~~~~~~~
Hace poco leí en el
San Francisco Gate
una crónica sobre la tienda de discos de Oakland (California, EE. UU.) Groove Yard Records y sobre cómo siguen vendiendo vinilo. Lo que me llamó la atención fue lo siguiente:
El álbum más caro que ha vendido [el dueño Rick] Ballard ha sido "House of Blue Lights" del pianista de bop de los cincuenta Eddie Costa - $700.
Llevo un tiempo investigando la discografía de Eddie Costa (que espero terminar pronto), y conozco muy bien este disco. Con su permiso, les presento al disco y a su autor.


Costa fue, principalmente, un pianista, aunque unos cuantos le recuerdan más como vibrafonista (también ha grabado al órgano y todo tipo de percusiones, incluidas las campanas). Tuvo una carrera muy activa entre 1954 y 1962, tocando jazz y como músico de sesión, hasta su muerte a los 31, víctima de un accidente automovilístico. Como pianista gozaba de un fiero ataque, y era conocido por lanzarse al registro bajo del piano, tocándolo a veces como si fuera el vibráfono, de forma no muy distinta a como lo hacía Lionel Hampton con dos dedos (aunque Costa tocaba octavas con su mano izquierda). Más allá de esa característica tan llamativa, no obstante, existe un solista con querencia por las líneas improvisadas largas y fluidas, exentas de clichés o frases hechas.
Aunque grabó muchísimo (me consta su presencia en más de 150 LPs y subiendo), sólo hizo cuatro LPs y medio como líder, para Jubilee (
The Eddie Costa-Vinnie Burke Trio
, 1956), para Mode (
Eddie Costa Quintet
, 1957, con Art Farmer y Phil Woods), para Verve (medio disco de Newport, de 1957, con Dick Johnson y Rolf Kühn), para Coral (
Guys and Dolls Play Vibes
, de 1957, con Costa al vibráfono y Bill Evans al piano) y para Dot (
House of Blue Lights
, de 1959).
El disco para Dot es, sin duda, el mejor que hizo. Para entonces había ampliado sus recursos como intérprete, usando toda la tesitura del piano y dotando de gran solidez estructural a sus solos. En su momento recibió cuatro estrellas en la revista Down Beat, y con razón. Es un gran disco, que apunta a una vía personal más allá del
bop
que se truncaría demasiado pronto.
Así que
House...
es de veras muy bueno, pero ¡¡¡$700!!! (yo lo he visto venderse en
eBay
por precios que oscilan entre $9.99 y más de $400, según su estado.) Esto, no obstante, sólo es válido para la versión mono, jamás reeditada. Los japoneses han reeditado el disco muchas veces, tanto en LP como en CD, pero siempre ha sido la versión en
es
téreo
, no la mono.
Así pues, la versión mono (Dot DLP 3206) sólo puede ser original, no reedición, lo cual la hace más escasa y cara. Personalmente, me gusta más cómo suena la mono... pero hay un detalle añadido:
las versiones mono y estéreo son levemente distintas
.
Gracias a los buenos oficios del
Instituto de Estudios de Jazz
, pude comparar ambas versiones, la original mono y una reedición estéreo. La música en todos los temas es exáctamente idéntica, salvo en los temas "Diane" y "Annabelle".
"Annabelle"
es un blues en Sol compuesto por Costa, con un
riff
muy interesante a partir de 1:40 (no está en el clip de audio) que comienza con un re bemol (la quinta disminuida) y está construído sobre la escala aumentada de sol (si, re bemol, mi bemol y fa). Las versiones en mono y estéreo son idénticas, salvo por la breve introducción de acordes del piano, que falta en la versión en estéreo. En los clips de audio se aprecia la diferencia.
El otro tema,
"Diane"
, es una olvidada canción de 1927, de la película
El 7º Cielo
, que contaba con una versión anterior a cargo de Miles Davis (con Coltrane en el disco de 1956 para Prestige,
Steamin'
). En esta versión el arreglo es muy interesante, posiblemente del propio Eddie. Son siete
chorus
, enmarcados por dos en los que el bajo y la batería tocan bastante
free
(recuérdese que estamos a principios de 1959, el año en que Ornette llegó a Nueva York), muy rápido, mientras Costa hace la melodía casi a media velocidad (se oye un poco al final de los clips de audio); en medio se alternan tres
chorus
en swing a 4/4 y dos de
stop time
. Aquí, a la versión en estéreo le falta todo un
chorus
de swing a 4/4 (32 compases, medio minuto) y el motivo parece ser que Costa metió la pata: al principio del
chorus
de swing se lanza a tocar el tema como correspondería al
chorus
final, se da cuenta de su error, cambia a la marcha correcta y parece que no acaba de hilar su solo. Los clips deberían ilustrar todo esto mejor que mis palabras. Y si se escucha "Diane" en estéreo a suficiente volumen, creo que se oye el corte de la cinta (en 0:13).
En todo caso, todo esto son detalles que no empeoran un disco excepcional que bien merece la pena catar.