Uno de los ejes de tensión a los que está sometido el jazz desde sus orígenes es el de la "seriedad" frente a la "popularidad" (por decirlo de alguna manera). Hoy en día el estudio del jazz, como el de cualquier otra de las artes, se ha incorporado al mundo académico. Es posible que esto disguste a algún romántico recalcitrante pero en términos generales no supone más que ventajas. La aplicación del rigor académico, no sólo en cuestiones de estudio, sino de archivo y documentación, es una bendición.
Una institución académica dedicada al estudio del jazz es el
Center for Jazz Studies
, de la Universidad de Columbia (Nueva York), que en los últimos meses ha lanzado
Jazz Studies Online
, un verdadero tesoro de recursos y lecturas (en inglés) para cualquier persona interesada en esta música. Como ejemplo, tiene las
anotaciones de Mike Heffley
a la
caja Mosaic de las grabaciones completas de Anthony Braxton para Arista
, el contenido de un número especial de la publicación
Current Musicology
(número doble, 71-72), con artículos como el de
Dan Skea sobre Rudy Van Gelder
(punto de partida de una biografía lamentablemente truncada) o el de
Jeffery S. McMillan sobre Lee Morgan
(a su vez origen de una
biografía que

sí

se ha publicado
).
En definitiva, un
website
al que merece la pena dedicar un buen rato. En mi opinión la joya de la corona es la publicación en formato pdf (con posibilidad de realizar búsquedas) de la mítica y efímera revista
The Jazz Review
. Esta publicación, dirigida por Nat Hentoff y Martin Williams, fue un punto de inflexión para la crítica jazzística. Algunos de sus artículos han pasado a ser puntales de la literatura sobre jazz, como el de Gunther Schuller sobre el "Blue 7" de Sonny Rollins, entrevistas extensas como las de Walter Page y James P. Johnson (en cinco partes) y, un favorito personal, las reseñas de discos
firmadas por músicos
como Bob Brookmeyer, Benny Golson, Bill Crow o Dick Katz.
De momento han subido los seis primeros números, con la promesa de publicar la serie completa.
¡Feliz lectura!
In 2008 the
Center for Jazz Studies
launched
Jazz Studies Online
, a treasure trove for the sheer amount of resources and quality jazz literature hoarded there. A brief sample: it has
Mike Heffley's liner notes
to
Mosaic's Anthony Braxton Complete Arista set
, the contents of a special issue of the journal
Current Musicology
(special issue, nos. 71-72), with articles such as
Dan Skea's on Rudy Van Gelder
(the starting point for a larger work, sadly truncated) or
Jeffery S. McMillan's on Lee Morgan
(which
has
become
a full-fledged biography
), plus a
very
long etcetera.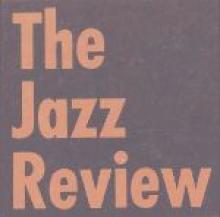 In other words, this is a website worth a good while of browsing. In my opinion the crown's jewel is the publication in searchable pdf of the short-lived and almost mythical
The Jazz Review
. This magazine, edited by Nat Hentoff and Martin Williams, was simply a major turning point for jazz criticism in the US. Some of their articles have become milestones in jazz literature, like Gunther Schuller's on Sonny Rollins's "Blue 7" and thematic improvisation, but there are plenty of hidden gems like lenghty interviews such as Walter Page's and James P. Johnson's (this, in five parts) and, a personal favourite, the record reviews
by musicians
such as Bob Brookmeyer, Benny Golson, Bill Crow or Dick Katz.
At the moment the first six issues are up, with the promise to upload the whole run.
Good reading!