(Para leer el texto en español, pulsa aquí).
Note on audio files: Since Spotify has limited availability throughout the world I've provided links to GoEar. They're marked

"(

GoEar

)"

after the relevant tune.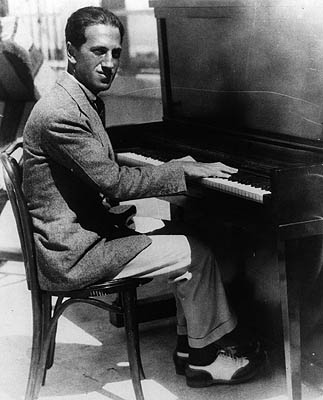 I wonder if George Gershwin (left) suspected how important "I Got Rhythm" would become when he wrote it. Its simple and logical harmonic frame, widely known as "rhythm changes", has provided the scaffolding for thousands of new tunes and improvised solos, and it's been subject to all sorts of re-harmonizations and other musical experiments, generally after severing its two-bar tail at the end of the
original
chorus (
GoEar
). (Yes, this most famous 32-bar standard is a 34-bar song).
In jazz, one the most popular tunes based on this song is Thelonious Monk's "Rhythm-A-Ning", a classic in jam sessions all around the world, due to its "rhythm changes" and the almost childish simplicity of its melody, with that
monkian
touch in the second four bars of the theme.
However, this melody was not created by Monk from scratch. It comes from the early Swing era, and has had quite an interesting journey, which is, at least partially, on record, with a couple of detours.
As far as I know, the first time something with a passing resemblance was recorded, it was played by Lawrence Brown in the opening solo (0:17) to Ellington's
"Ducky Wucky"
(
GoEar
) (
1932
). The next appearance is more significant, though. It happens in a sort of riff showcase built by Mary Lou Williams (right) for Andy Kirk's orchestra called
"Walkin' and Swingin'"
(
GoEar
). This was recorded in
1936
, clearly for Kirk's dancing audience, but it has its quirks, like the second
chorus
(0:43-1.21), arranged for the sax section with a trumpet lead. Although rhythmically it's 100% Swing (all those eighth notes), there is room for variation (like the bit starting in 0:51).
It's precisely in that second chorus that we can hear eight bars of what any jazz fan today would call "Rhythm-A-Ning" (1:12), although Monk only kept the first four bars. The second four are swinging eighth notes, more fluid and less angular than in Monk's version.
The next instance of this riff, as an independent head, comes from Minton's,
1941
vintage. There, musicians used to call it
"Pagin' Dr. Christian"
(
GoEar
) or "Meet Dr. Christian" (it was released as "Down On Teddy's Hill" on record, the riff appears at 2:28), and apparently it was widely used to bookend the improvisations on Gershwin's chord changes. "Dr. Christian" was, of course, guitarist Charlie Christian, then in Benny Goodman's pay-roll. Christian was a regular at the jam sessions at Minton's, where the house band, at the time, was comprised by Kenny Clarke on drums, Nick Fenton on bass, Joe Guy on trumpet, and a young Thelonious Monk at the piano.
Andy Kirk's was one of the strongest bands to come out of the Midwest, an area where Charlie Christian was already known before he joined Benny Goodman. That, and Christian's friendship with Mary Lou Williams, well-known as a mentor to younger musicians, could be the way this riff got to Minton's and Monk. However, Monk wouldn't record "Rhythm-A-Ning" until 1957, in his LP with Art Blakey for Atlantic. In the meantime, though, this riff survived in a form more similar to the "original", although less relevant in jazz repertoire.
But first, there's yet another variation: a similar riff appears in "Taps Miller", a tune normally associated to
Count Basie
(
GoEar
), who recorded it in
1944
, although it was also recorded by
Georgie Auld
(who shared the frontline of Benny Goodman's Sextet with Christian). Also a "rhythm changes" tune, here the head is only an echo of Mary Lou Williams's riff, although it must be noted that the Harlem connection is still there: although there are some doubts about this, dancer, singer and sometime trumpet player Taps Miller is listed as the drummer in some sessions recorded by Jerry Newman at Monroe's.
Back to the timeline and the version linked to Charlie Christian and Minton's, it reappears almost verbatim in
1950
recorded by Al Haig (right) as
"Opus Caprice"
(
GoEar
). How it got to Haig is not clear, although he used to go to Minton's, so it could be there that he first became aware of the tune, or maybe he listened privately to Jerry Newman's recordings, which were not commercially released till 1953, according to
Leo Valdés's discography
.
After Al Haig's version, Monk would record his own, which would eventually become the canon to play this riff. I say eventually because the theme recorded with
Blakey
(
GoEar
) is not the most popular one, nor is the one he recorded with
Gerry Mulligan
(
GoEar
) (which has, of all things, a 16-bar bridge). Those two are both from
1957
, while the first "definitive" recording comes from the following year,
1958
,
with Johnny Griffin at the Five Spot
.
By
1966
Monk's version was already set in stone, and those last four bars of convoluted eighth notes was lost... Not quite. Messrs. Terry & Brookmeyer recorded their take on Haig's "Opus Caprice" as
"Haig & Haig"
(
GoEar
) (on their album
Gingerbread
for Mainstream, with Terry particularly angelical).
Monk (piano), Charlie Rouse (tenor sax), John Ore (bass), Frankie Dunlop (drums).
Netherlands/Países Bajos, April 15, 1961.
~~~~~~~
Nota sobre los ficheros de audio: como Spotify tiene una disponibilidad limitada, he incluido enlaces a GoEar. Figuran como "(GoEar)" detrás del tema correspondiente.
Me pregunto si George Gershwin sabía la que iba a montar cuando compuso "I Got Rhythm". Su sencillo y lógico armazón armónico, conocido entre los músicos como "rhythm changes", ha servido de andamiaje para incontables temas nuevos, improvisaciones, rearmonizaciones y todo tipo de perrerías musicales, casi siempre obviando el rabillo de dos compases al final de cada
chorus
que tiene el
original
(
GoEar
). (Efectivamente, el
standard
de 32 compases más famoso del repertorio en realidad es un tema de 34 compases).
Uno de los temas más populares del repertorio jazzístico armado sobre esta canción es el "Rhythm-A-Ning" de Thelonious Monk, un clásico de las
jam sessions
de todo el mundo, por la familiaridad de su cadena de acordes y la sencillez casi infantil de su melodía, con ese toque típicamente
monkiano
en los segundos cuatro compases del tema.
No obstante, esta melodía no la creó Monk de la nada. Su origen se remonta a la época del Swing, y su trayectoria es curiosa y con ramificaciones.
La primera aparición, que yo sepa, y aunque sea de forma poco más que embrionaria, es en el
"Ducky Wucky"
(
GoEar
), de
1932
, en el solo de Lawrence Brown (a la izquierda) que abre el tema (0:17). La siguiente aparición es más significativa, no obstante. Se produce en el potaje de
riffs
que cocinó Mary Lou Williams para la orquesta de Andy Kirk con el título de
"Walkin' and Swingin'"
(
GoEar
). Grabado en
1936
, es un tema evidentemente diseñado para el baile, aunque no sin sus curiosidades. El segundo chorus (0:43-1.21), por ejemplo, está arreglado para una trompeta más la sección de saxos y, aunque rítmicamente es puro Swing (predominan las corcheas) presenta algún pasaje más sofisticado (0:51).
Precisamente en ese segundo chorus aparece lo que hoy conocemos como "Rhythm-A-Ning" (1:12), en ocho compases de los cuales Monk sólo conservó los cuatro primeros. La segunda mitad de la frase son corcheas
swing
, rítmicamente menos angulosas que la versión de Monk.
La siguiente aparición de este
riff
, ya como tema independiente se
produce en Minton's en
1941
. Allí los músicos lo conocían como
"Pagin' Dr. Christian"
(
GoEar
) ("llamando al Dr. Christian") o "Meet Dr. Christian" ("le presento al Dr. Christian"), y al parecer era uno de los temas recurrentes, como cabecera y cierre de improvisaciones sobre la cadena armónica pergeñada por Gershwin (el
riff
se puede escuchar en 2:28). El "Dr. Christian" del título era el guitarrista Charlie Christian (en la imagen, con Georgie Auld), entonces en la nómina de Benny Goodman. Christian era habitual en las jams de Minton's, local en el que la banda de la casa la formaban, por aquel entonces, Kenny Clarke a la batería, Nick Fenton al bajo, Joe Guy a la trompeta y un joven Thelonious Monk al piano.
La orquesta de Andy Kirk fue una de las bandas potentes de la región central de EE UU, de donde también procedía Charlie Christian.
Ese motivo o la amistad de unía al guitarrista con Mary Lou Williams pueden haber sido las vías de entrada de este tema en Minton's y de que Monk lo conociese. Aun así, Monk no lo grabaría hasta 1957, en su LP con Art Blakey para Atlantic. Entretanto, este
riff
pervivió de forma más similar a la "original", aunque menos prominente en el repertorio jazzístico.
Pero antes, existe una tercera variación, aunque distante: aparece en el tema "Taps Miller", tema normalmente asociado a la orquesta de
Count Basie
(
GoEar
) (
1944
), aunque también lo grabó
Georgie Auld
(ex-compañero de Christian en el sexteto de Benny Goodman, ambos en la imagen superior). También está basado en los acordes de "I Got Rhythm", aunque aquí el tema es similar, no idéntico, al
riff
de Mary Lou Williams. La conexión con Harlem es débil, pero existe: el tal Taps Miller era un bailarín, cantante y trompetista (de segunda), y aunque existen dudas al respecto, lo cierto es que figura como batería en algunas sesiones grabadas por Jerry Newman en Monroe's.
En orden cronológico, y volviendo a la versión de Minton's acuñada por Charlie Christian, ésta reaparece casi literalmente en
1950
de la mano de Al Haig, con el título
"Opus Caprice"
(
GoEar
). No está claro cómo llegó a oídos de Haig, pero al parecer éste solía ir por Minton's, por lo que es posible que la oyese de primera mano allí, o que hubiera tenido acceso de alguna forma a las grabaciones realizadas por Jerry Newman, inéditas hasta 1953, según la
discografía de Leo Valdés
.
Tras esa versión de Al Haig, Monk grabaría la suya, que a la postre se convertiría en la canónica dentro del repertorio del jazz. Digo a la postre, porque la versión con
Blakey
(
GoEar
) no es la más popular, como tampoco lo es la que grabó con
Gerry Mulligan
(
GoEar
) (que además tiene, cosa rara, un puente de 16 compases). Esas dos son de
1957
, mientras que la "definitiva" es del año siguiente, de
1958
, con
Johnny Griffin en el Five Spot
.
Para
1966
"Rhythm-A-Ning" era exclusivamente la versión de Monk, grabada en piedra en el imaginario jazzístico, con esos cuatro compases de corcheas onduladas perdidos para siempre... o no tanto. En ese mismo año, los sres. Terry & Brookmeyer (derecha) grabaron su versión del "Opus Caprice" de Haig como
"Haig & Haig"
(
GoEar
) (en su LP
Gingerbread
para el sello Mainstream, en el que Terry suena particularmente angelical).